US Army Flag Display Case
Can be Laser Engraved
Flag and Memorabilia Display Case
US Army Flag Display Case
If you or someone you love has spent time serving your country in the army ,
then this is the flag case you should have, bar none.
Our Engraved Service Emblem Flag Cases are exquisitely crafted in your choice of solid oak, walnut, cherry, or mahogany.
The double-strength glass front of the Army Flag Display Case is Laser Engraved with your choice of Service Emblem of the Army
Army Flag Display Case is layered with crushed velvet, making this the preeminent flag display case available anywhere today.
Large enough to display coffin sized flags.
The Army Flag Display Case can be zised up for the 3x5 flag as well.
| | | | |
| --- | --- | --- | --- |
| | Solid Oak, Walnut, Cherry, or Mahogany | | Double Strength Glass Panel |
| | Personalized Laser Engraving (optional) | | Crushed Velvet Background (blue) |
| | Flag (optional) | | Laminate Panel Back |
| | Branch Specific Engraved Metal Plate (optional) | | Inside Dimensions: 23 3/4"W x 11 3/4"H |
| | Accepts folded flags 3ft x 5ft coffin/burial flag. | | Accepts folded flags up to the 5ft x 9.5ft coffin/burial flag. |
| | | | |
The Army Flag Display Case designed specifically for the Burial, or Casket Flag which, when unfolded measures 5 ft. x 9-1/2 ft. These Large Flag Cases will also beautifully display your 5 ft. x 8 ft. and 4 ft. x 6 ft. flags
Orders for the Army Flag Display Case are usually shipped out within one business day to places within the USA and Canada.
For Military Service Medallions in Solid Brass click Here
the Army Flag Display case can also come as :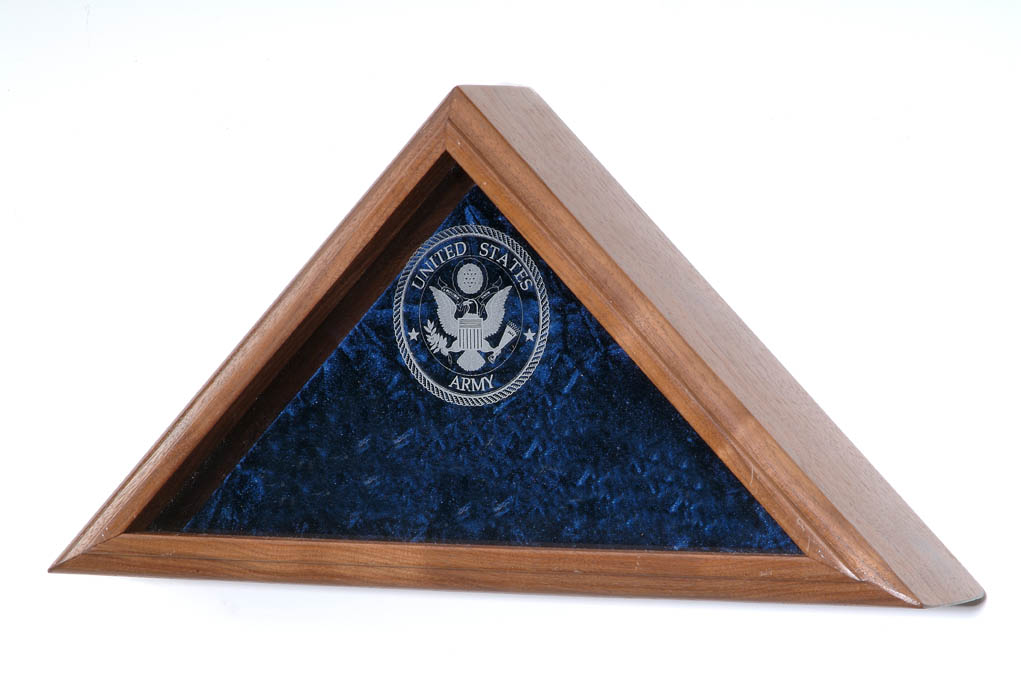 Please see below what a few of our clients used as a text for the engraved name plates!
All plates are laser engraved
And come with a gold lettering and a black background.
It is all done according to the military standard, with military fonts.
The name plates will come with a double side tape, for your convenience – so you can easily attached it to any flag case.
All name plates are shipped within the same day.
Testimonials
Dear Flag Connections,
Your Army Veterans Flag Display case represented our family well. I had no hassle in making the order and I received a very prompt delivery, well before my friend's scheduled memorial service. Thanks for a beautiful box.
Diana Waugh
Dear Flag Connections,
This Army Flag Display case is just the thing I was looking for to honor my late father. I had a classic cremation urn before, but felt that this solid wooden case was a bit more suitable with its flag overlay. He served for 20 years in the force and this was very appropriate. I wish I knew about these before. Nothing but the best for Dad.
Abdul Grant
[ Burial Flag Box ] [ Burial Flag Boxes ] [ Burial Flag Case ] [ Burial Flag Cases ] [ Burial Flag Display Box ] [ Burial Flag Display Boxes ] [ Burial Flag Display Case ] [ Burial Flag Shadow Box ] [ Casket Flag Box ] [ Casket Flag Case ] [ Casket Flag Cases ] [ Casket Flag Display Box ] [ Coffin Flag Box ] [ Coffin Flag Display Box ] [ Flag Boxes ] [ Flag Case ] [ Flag Cases ] [ Large Flag Display Box ] [ Flag Display Boxes ] [ Flag Display Cases ] [ Flag Frame ] [ Flag Shadow Case ] [ Flag Shadow Cases ] [ flagboxes ] [ flagcases ] [ FlagFrame ] [ Casket Flag Shadow Case ] [ Casket Flag Shadow Cases ] [ American Flag Box ] [ American Flag Boxes ] [ American Flag shadow Box ] [ Police Flag Case ] [ Decorative Banner Flags ] [ Military Flag Display Case ] [Military shadow ] [ Flag Display Case ] [ Imported US Flags ][ Flag and document Display cases] [American Flag Display Case, Burial Display case for flag] [American Burial Flag Box] [Casket Flag Case and Medal, Casket Medal Flag Display] [Flag Display Case Air Force] [Marine Corps Flag Display Case] [Military Flag and Document Holder] [Military Frame, Military Flag Display Case] [Rectangle Flag Medal Case Medal flag Frame] [USMC Flag and Certificate Display Case, USMC Flag Frame] [Buy Flag Display case - Fit Large flag, burial flag 5ft x 9.5ft] [Engraved Brass Plates] [Flag and Memorabilia, Flag Shadow Box, Combination Flag Medal] [Glass Laser Engraved Flag Display Case] [Officers Flag Display Case AND Pedestal for 5ft x 9.5ft Flag] [Flag and Photo Display case,Photo and Medal Display case] [Large Military Flag and Medal Display Case]
Save
Army gift frame : Army gift frame
Army medal and photo frame : Army medal and photo frames
Army medal frame : Army medal frames
Armed Forces flag case: Armed Forces flag cases
Armed Forces Flag Frame: rmed Forces Flag Frames
Armed Forces Gifts: rmed Forces Gift
Army Burial Flag Case: Army Burial Flag Cases
Army Flag Box: Army Flag Boxes
Army flag Case: Army flag Cases
Army Flag Combination: Army Flag Combinations
Army Flag Display Case: Army Flag Display Cases
Army Flag Display case : Army Flag Display cases
Army Flag Frames: Army Flag Frame
Army Oak Flag Memorial Display Case : Army Oak Flag Memorial Display Cases
Army Retirement flag case : Army Retirement flag cases
Engraved Flag Case: Engraved Flag Cases
Military display cases: Military display case
Veteran Flag Display Case: Veteran Flag Display Cases
Flag Cases: Flag Case
Military Display Shadow Show Frames: Military Display Shadow Show Frame
Veteran Shadow Box: Veteran Shadow Boxes
Item #: AM03192701_Army_Flag_case
Manufacturer: Flags Connections
Manufacturer's Product Number: Army Flag Display Case
Condition: New
Army Flag Display Case, United States Army Flag Case