Click To Enlarge
Single Medal Display Case- Wood Awards Display Case
Awards Display Case
Solid Oak Laminate Panel Back w/ Hanger Personalized Laser Engraving (optional) Glass Front Crushed Velvet Background Inside Dimensions: 8W x 16H
For Military Service Medallions in Solid Brass click Here
Size :8"W x 16"H x 1-1/4"D
Solid Oak

Glass Front

Laminate Panel Back w/ Hanger

Crushed Velvet

Background

Personalized Laser Engraving (optional)

Inside Dimensions: 8W x 16H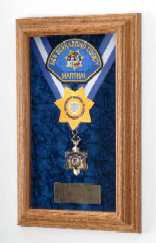 Testimonials
Dear Flag Connections,
I was apprehensive about buying online...I must say, my first time's a charm. I've had super-fast shipping. The frame is classy and elegant with real wood and glass. It's an excellent product for the price. Thank you Flag Connections.
Brittany Spence
Dear Flag Connections,
The Armed Force Award Frame is an idyllic solution for displaying your most prized accomplishments. It couples its stately looks and solid construction with an incredible bargain.
Diana Arskowski
Dear Flag Connections,
We used these Army Frames for our children's institute medals. Our talented kids have accumulated an enviable amount. What a look of professionalism and class! We'll be ordering more of these frames and we highly recommend them to any person, church, school or bible college.
Lisa Mayes
Item #: AM006-ac
Manufacturer: Flags Connections
Manufacturer's Product Number: AM006-ac
Condition: New
Single Medal Display Case, Wood Awards Display Case
Best Values
Related Items